CONCLUSION
✨ Interested in learning more about divinatory tarot? ✨
After delving into the profound meanings of the 78 cards, you might still have questions or curiosities about this ancient art. Explore my comprehensive FAQ on divinatory tarot to deepen your understanding and answer all your inquiries.
[🔮 Discover my divinatory tarot FAQ here! 🔮]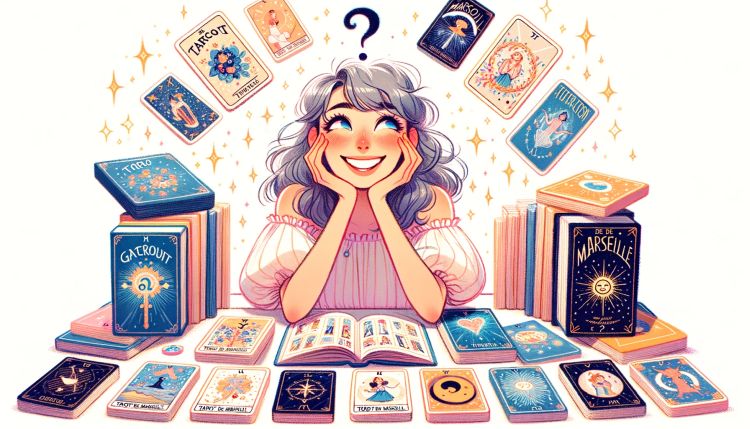 Which Tarots de Marseille to use ?
As far as the Tarot de Marseille is concerned, I have a clear preference for historical tarots, especially those of type I (prior to 1702) which have details in their images that were not subsequently preserved in the canonical form of the Tarot de Marseille established around 1709 (type II) by the Madenié Tarot. These Tarots (Noblet 1650 and Dodal 1701, among others), through their forgotten and unpreserved graphic details, give a clearer and more precise teaching (in my opinion) than the usual Grimaud or Camoin/Jodorowsky form. Naturally, this requires study, but since these tarots are less abundant and esoteric than the modern Tarots de Marseille, learning them is easier (or so I think). Restored versions of the Noblet and Dodal can be purchased from the following site LeTarot.com. I have reviewed in detail :
Which Rider-Waite-Smith Tarot cards to use ?
RWS tarots vary considerably. Some of them deviate from the original form of the RWS, for example by putting the Justice and Force cards back in the right position 8 and 11 (The Wild Unknown Tarot), while others come closer to the Thoth tarot (The Urban Tarot). Below, I don't necessarily give my selection of the best tarots (everyone has their own preferences, of course), but rather the ones I feel are the most accessible and popular for beginners :
✨ Share your vision of the Tarot ✨
The Major Arcana (Triumphs) of the tarot are a mirror of the soul, and everyone sees a different reflection. Have you ever felt a special connection to one of these cards? Or perhaps you have a unique interpretation that could shed light on another aspect of these mystical symbols?
I invite you to dive into the exchange and enrich our community with your unique perspectives. Leave a comment below with your favorite card and what it evokes for you. Together, let's explore the hidden depths of the tarot.
👉 Comment now and let's share our discoveries!